Arthur "Big Boy" Crudup
The Mississippi Musicians Project of Starkville High School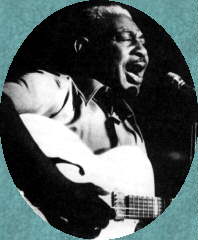 Major Hits
Biography of Arthur "Big Boy" Crudup
Timeline
Related Web Sites
Bibliography

---
Biography of Arthur "Big Boy" Crudup
by Shiquita Mobley (SHS)
"Big Boy" Crudup was a great blues singer and writer who was well-known throughout the United States. He was born on August 24, 1905. Arthur Crudup began his musical career singing gospel in church choirs.He began playing the blues for parties in Clarksdale, Mississippi, in 1939, but Crudup moved to Chicago in the hopes of making a better living. For awhile he played street corners in Chicago blues, but what he earned was not enough to live on. He lived in a packing crate underneath an elevated train track until he was found by blues producer Lester Melrose. Crudup was hired to play at a party at Tampa Red's house in 1941, and as a result of that night, was signed to record for RCA/Bluebird. However, the relationship with Melrose deteriorated after Crudup found out that he was not being paid royalties for the songs he wrote in 1947. By this time Crudup had become an innovator because his sound was his own. He returned to Mississippi after his falling out with Melrose and ran a successful bootlegging business. He did continue to record with RCA in the late 1940's and 50's, and he also toured with Sonny Boy Williamson (Rice Miller) and Elmore James.
Crudup did not limt himself to one musical style. His hits include R & B, Electric Delta Blues, and Delta Blues. He played the guitar, harmonica, and did vocals. "Big Boy" Crudup wrote other blues classics which were song by famous artists such as B. B. King, Big Mama Thornton, Bobby "Blue" Bland, and Elvis Presley. Three of Crudup's songs were recorded by Elvis Presley, but Crudup is best known as the writer of "That's All Right, Mama," which was the first song Presley recorded in 1954.
In addition to his own vocals, he cut trumpet singles using the names Elmer James and Percy Lee Crudup. By the mid 1950's Crudup had all but guit the music business because he was angry at
constantly being cheated out of money which was due him. He graduatlly withdrew from the blues scene and began working as a laborer. Later, he made a comeback with an album for Bobby Robinson and did some recording on Delmark and Liberty labels. He did a tour of England in 1969, toured Australia in 1972 and played in blues revival concerts like the Newport Jazz Festival.
Only one film ever used Crudup as a musician and that was Out of the Black, Into the Blue. A film documentary of his life was made in 1973. Crudup contined singing the blues until his death in March of 1974.
Crudup is remembered as a great bluesman and songwriter who was born and raised in Mississippi.
---
Timeline for Arthur "Big Boy" Crudup
Born in Forest, MS August 24, 1905
Sang in gospel groups and church choirs (1920-1935)
Moved to Chicago 1939 Started playing the blues ,worked city street corners for spare change
Discovered by Lester Melrose, 1941
Became RCA artist in September in 1941
Relationship with Melrose soured because Crudup found out he was not being paid royalties for his song in 1947
Toured U.S. with Sonny Boy Williamson and Elmore James in late 40's
Returned to Mississippi where he operated a sucessful boot- legging business and continued to record with RCA late 40's
Cut singles for Trumpet disguised as Elmer James in 1952
Cut single for Checker as Percy Lee Crudup in 1952
Became Elvis Presley's favorite bluesman, wrote Elvis 's debut song "That's All Right Mama" in 1954
Had all but quit blues career in Mid 1950's, angered at being cheated out of money due to him. Drifted into contract farm labor work
Surfaced after long layoff in 1961
Toured England and U.S. in 1969
Toured Australia in 1972
Died in Nassawadox, VA on March 28, 1974
---
Related Web Sites
Photo of Crudup and biography on Surfin' site.
Excellent site that gives biography of Crudup and links to other sites from All-Music Guide
Review of biography of early life of Elvis Presley mentions Crudup.
Blues quiz has Crudup as answer to some questions.
Crudup is listed as original in origins of Rock and Roll.
Rankings of 300 blues musicians and other info. Crudup is 58.
Website lists recordings of Crudup still available.
Blues Highway Hall of Fame list Crudup.
Home video documentary of Crudup and his music.
Tee shirt design with Big Boy Crudup on it.
---
[an error occurred while processing this directive]