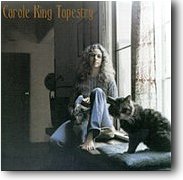 While dining with a friend recently, the topic of the re-release of Carole King¹s triumphantly successful 1971 release, Tapestry, was raised. My friend pronounced it a "landmark album in his life" and proceeded to catalogue some of the motifs from the tapestry of his own life, effortlessly resurrected by his recollection of Miss King's critically-acclaimed, audience-embraced master work. One could not help but wonder, as the newly mastered CD glided into the player, which connotation of "landmark" would be revealed. A tapestry may hang in dusty tatters, ravaged and scarred by the passing of time, evidencing only a flawed shadow of its former glory; it can also maintain its beauty and charisma, deserving its ever growing reputation as an object of wonder, a symbol of glorious days gone by.
It was, this critic opines, a lot of the former only slightly denigrated by a bit of the latter. Held aloft today, Tapestry prevails as a significant collection of colorfully memorable moments diminished to a slight degree by a dated background of three or four unexceptional tunes, their former power eroded by the passing of the years. There can be no one within earshot of a radio that has not heard a Carole King song at some point in his or her life. With co-writer and husband Gerry Goffin, she formed one half of a formidable song-writing duo that has penned more hit singles, over one hundred, than any other pair save Lennon and McCartney. Through the windows of the Brill Building, the rock and pop equivalent of Tin-Pan Alley, flowed such elemental classics of their era as Will You Still Love Me Tomorrow?, Take Good Care Of My Baby, and The Locomotion. Many a scruffy street-corner a cappella quartet harmonized Goffin/King melodies such as One Fine Day, and Up On The Roof - songs that conjure reflections of the innocence of their day, an innocence long ago lost. In short, Ms. King learned her craft well, and established her merited reputation long before Tapestry was launched on its illustrious journey to classic status.
Tapestry was not an entirely original release, in that it reprised some material already familiar to most of its audience. The Shirelles struck the mother lode in 1960 with Will You Love Me Tomorrow?, a song that weaves its theme of teenage female sexuality - a delicate theme at the best of times, herein handled with just the right balance of sensuality and pathos - with a melody that is unforgettable in its guileless simplicity. (You Make Me Feel Like) A Natural Woman defined that teenaged girl, now having blossomed into expressive womanhood, empowered and given full voice by Aretha Franklin in her definitive 1967 rendition. Ms. King's inclusion of her versions of these two hits did nothing to undermine their reputation; Will You Love Me Tomorrow , its cadence remarkably slower than the original, captures its wistful theme perfectly and squeezes it until the listener aches for the young girl's sake. Like A Natural Woman, stripped of the trappings of an Aretha production, revels in the simplicity of a presentation of only keyboard, string bass and vocals, its strength garnered implausibly from a production in which less is more. Each of these songs remain as exquisite highlights of this reissue.
Perhaps the song that best catches the spirit of 1971, the year of Tapestry's release, is the jauntily joyful I Feel The Earth Move, a song replete with the naive optimism of hippiness long gone. Curiously, the song remains almost as energetically engaging today, with its thematic commingling of nature and first-love and its catchy melodic hook. Also still strong after all these years is the rolling blues spiritual, Smackwater Jack, with its still timely observation, "You can't talk to a man/ With a shotgun in his hand." What was once tongue-in-cheek commentary has become a tenet of sound street proofing in the modern world! It's Too Late mirrored the success of the opus from which it was extracted, reaching Number One on the charts and garnering a Grammy for Record Of The Year, one of four Grammies won. Today, the song is as dated as love beads and flowers stuck in soldiers' gun barrels; it is a pleasantly forgettable nicety, inoffensively delivered. Two songs that seem stronger today than they did when first issued are So Far Away and Home Again, linked thematically by their common lamentation: the distance between us is vast, the quest to lessen it through love can ultimately harbour us in the safety of home. Their pensive message rings as true in today's highly fragmented, danger-strewn world as it was in 1971.
Arguably the most enduring song on this opus, You¹ve Got A Friend, became somewhat of a signature tune for James Taylor; indeed, Carole King toured with Taylor immediately before resurrecting her solo career, overcoming her stage fright with extensive encouragement and support from this illustrious performer. It is no surprise that many of the musicians used for the recording of Tapestry are those who supported Taylor on tours around that time. You¹ve Got A Friend, in Ms. King's domain, remains as moving and as comfortable as ever.
Tapestry is not without its flaws, or rather, sonic points where the material has been worn thin by time. Songs such as Way Over Yonder and Where You Lead, though skillfully rendered and delivered, seem like mere throwaways today. The title song itself strains its metaphor, until what was once meant as mystical and profound, today sounds absurd and contrived - it must have been the drugs! Extremely unnecessary and annoying is the inclusion of two songs not included in the original release, and not needed today, save to extend the work to its present length, and to give those who already own the album or the CD "new" material that might whet incentive to purchase this package. This ploy should fail. Out In The Cold, recorded contemporaneously with the rest of the material on Tapestry, was omitted from the opus for a reason: it says nothing interesting, and it says it in a nondescript manner. What the world does not need now, moreover, is a live 1973 version of Smackwater Jack that seems insipid when compared to the energetic original.
To state it simply, if the listener yearns to return to the ideals and themes of a time where innocence and naivete are relevant touchstones, and if said listener is in possession of a recording of Tapestry, the grooves of which are worn deep enough to conceal a sizable stash, then this CD is a worthy purchase. However, those unfamiliar with the artist or this work beyond a hazy familiarity with a few of her classics, would find a few engaging moments, but, ultimately wondering what all the fuss was about, would do well in the end to crank up Alanis Morissette or Tori Amos to get an update on the sensibilities of womankind on the brink of the Millennium.