Doc Pomus and Mort Shuman

Mort Shuman and Doc Pomus

One of the most important rock and roll writing teams of the late-50s and early-60s, second only to Jerry Leiber and Mike Stoller, Doc Pomus and Mort Shuman composed more than 500 songs between 1958 and 1965. with Shuman composing the music and Pomus writing the lyrics, they achieved their greatest success writing for the Drifters and Elvis Presley, who recorded more than 20 of their songs.

Developing polio as a child and using crutches to walk, Jerome Felder began playing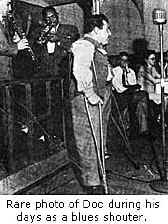 saxophone and singing in Greenwich Village clubs as a teenager, adopting the name Doc Pomus. By the mid-40s Pomus had begun recording blues based songs for a variety of labels with little success. In the early-50s he began writing songs, achieving his first success with "Boogie Woogie Country Girl" recorded by Big Joe Turner. He also wrote "Lonely Avenue," a smash R&B hit for Ray Charles, and collaborated with Jerry Leiber and Mike Stoller on the Coaster's hit "Youngblood." Pomus quit singing in 1957.
Mort Shuman had studied music at the New York Conservatory and became a passionate devotee of of R&B, playing piano on some of Doc Pomus's recordings. In 1958 he and Pomus formed a partnership that lasted until 1965. Brought to Hill and Range Publishers by Otis Blackwell ("All Shook Up," "Don't Be Cruel," and "Great Balls of Fire"), the team took up residence at the Brill Building working for Aldon Music. Pomus and Shuman's earliest hits included Fabian's "I'm a Tiger," "Turn Me Loose," and "Hound Dog Man," Dion and the Belmonts' "A Teenager in Love," the Mystics' "Hushabye," and Jimmy Clanton's "Go, Jimmy, Go."
Between 1959 and 1961 provide the Drifters with hits that included "This Magic Moment," "Save the Last Dance for Me," and Sweets for My Sweet." Pomus and Shuman also began providing songs to Elvis Presley including "Surrender," "Little Sister," "Suspicion" "Marie's the Name of His Latest Flame" and "Viva Las Vegas"
In 1964 they went to England, where Shuman began working with other writers. In 1965, Pomus took a severe fall, requiring hospitalization, and he remained confined to a wheelchair for the rest of his life. The team broke of that year and Pomus subsequently left the music business for ten years. Shuman collaborated with others writing "Little Children" for Billy J. Kramer and the Dakotas, the Hollies, Freddy and the Dreamers, Cillia Black, and the Small Faces.
Shuman then moved to Paris, where he performed occasionally, recorded several albums, and wrote for French artist Johnny Hallyday. In 1968 Shuman translated the lyrics of French composer Jacques Brel, later writing, producing and starring in Jacques Brel Is Alive and Well and Living in Paris, which ran for seven years. In 1986 Shuman moved to London and wrote music for the unsuccessful British musical Budgie as well as for several other shows that were never staged. Mort Shuman under went a liver operation in the spring of 1991 and died in London on November2, 1991 at the age of fifty-four.
After spending more than ten years as a professional gambler, Doc Pomus returned to music in the late 70s, co-writing with Dr. John and B.B. King. In 1991 Pomus became the first white person to be awarded the Rhythm and Blues Foundation's Pioneer Award.. Later that year, on March 19, he died of lung cancer at the age of sixty-four in New York. In 1995 Forward Records released Till the Night Is Gone, which featured recordings of fourteen of his songs, many written with Mort Shuman, by artists such as Bob Dylan, Lou Reed, John Hiatt, and Roseanne Cash.
Doc Pomus was inducted into the Rock and Roll Hall of Fame in 1992
Tell the Truth Until They Bleed