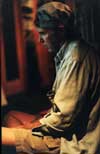 Well-known for his mercurial musical instincts, Neil Young took a creative route, circuitous even for him, to arrive at Silver & Gold, his latest release on Reprise Records.

Join other fans on our Neil Young Message Board

Produced by the artist and Ben Keith and utilizing a top-flight assemblage of supporting musicians including drummers Jim Keltner and Oscar Butterworth, bassist Donald 'Duck' Dunn and keyboardist Spooner Oldham (as well as Keith, himself, on pedal steel guitar and dobro), Silver & Gold went through three distinct incarnations over its nearly three-year gestation period.

The point of origin for the album's ten tracks can be traced to mid-1997 when Young returned from headlining the H.O.R.D.E. tour with the evolving notion of recording his first-ever totally solo album. While, over the course of his four-decade career, there have been abundant examples of his solo artistry - "Heart Of Gold" springs most readily to mind - the concept of a full tunestack of vocal and acoustic guitar originals had yet to be realized.